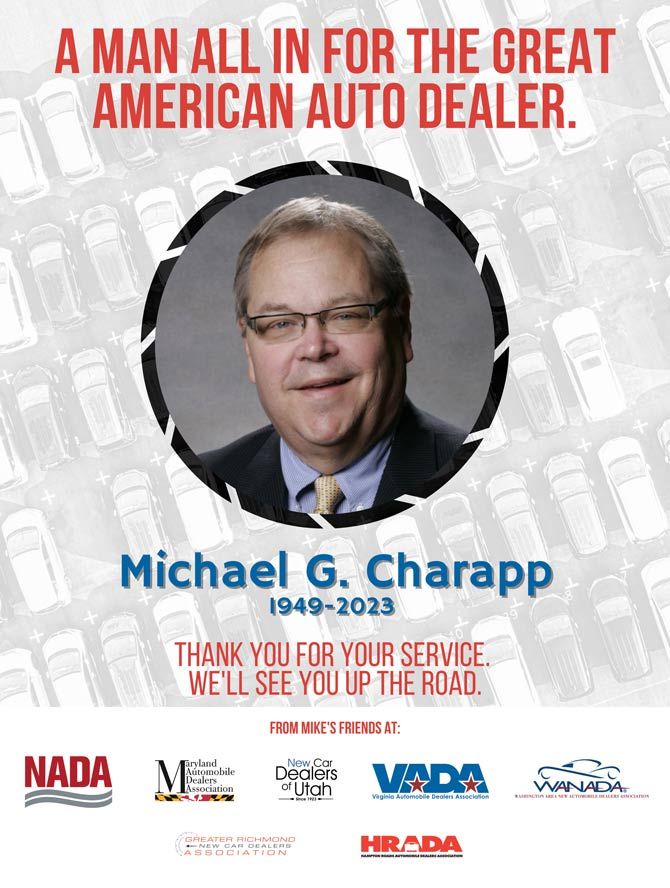 Barrie Charapp Beaty recalls her first foray into her father's professional world. It was in high school after she crashed his beloved black Jeep Cherokee.
"I had to work for him to pay for the repairs," she says. While the Jeep was never quite the same, she handled filing and remedial work at her father's law firm, Charapp & Weiss, LLP, before going on to earn a law degree and joining him in practice in 2011.
Mr. Charapp served the automobile industry for more than 60 years. He was the son of a Dodge dealer in Pittsburgh, PA, starting out in the parts department at age 13. He worked for his father until he left to attend Georgetown University for law school.
Over the course of his own career, Mr. Charapp represented and advised hundreds of automobile dealers and several dealer trade associations, including those in Virginia, Utah, Maryland and Washington, D.C. Mr. Charapp passed away at his Ponte Vedra Beach home in June. He was 74.
Friends remembered Mr. Charapp as highly knowledgeable in dealership law and equally as witty, and not one to allow his position or legal opinion to go unknown. He wouldn't hesitate to unleash a cutting one-liner, and his legal guidance based in his interpretation of state and federal rules formed the basis of a multitude of laws to strengthen auto dealer franchise laws nationwide. If a dealer had a problem, he solved it, Mrs. Charapp Beaty recalls.
"I will forever be grateful for the lucky circumstance that allowed me to work with and learn so much from Mike," says Anne Gambardella, the Virginia Automobile Dealers Association's Executive Vice President and General Counsel. "My diploma says William & Mary, but I really went to the Mike Charapp School of Law."
In 1996, Mr. Charapp joined attorneys Brad Weiss and Michael Deese to form Charapp, Deese & Weiss, later becoming Charapp & Weiss, focusing exclusively on matters related to franchise law and new car and truck dealerships. Charapp and Weiss grew the firm before joining with Mahdavi, Bacon, Halfhill & Young, a full-service D.C.-area law firm, in 2022.
Mr. Weiss said his partner was "all in" for automotive dealer interests, refusing to ever take cases against them. "We had differences on strategy sometimes, but we always got along," he said. "Mike was the closest thing I have to a brother."
Prior to his partnership with Mr. Weiss, Mr. Charapp was General Counsel for Geneva Management, Inc., which operated and managed dozens of auto dealerships and franchises under the Rosenthal Automotive name. There, he handled legal matters relating to risk management, corporate and commercial issues, employment, financial transactions and litigation.
Ms. Gambardella called Mr. Charapp the gravity that kept VADA's mission, legal and legislative activity grounded in federal and state law — and the reality of dealership operations. "He was our touchpoint to what really goes on in the stores," she says. "He brought a practical aspect that is missing from lawyers who just go to law school. I could always go to him and say, 'I know what the law says, but explain to me what happens in the real world.'"
Mr. Charapp counseled VADA for more than 27 years and, prior to his work as a hired attorney, served on its board of directors with Geneva. He was the driving force behind legislation to strengthen various franchise laws, from warranty/recall issues to dealer data management and employment concerns. He was the brains behind groundbreaking Virginia legislation that strengthened the Commonwealth's franchise laws to prevent manufacturer-controlled sales.
Don Hall, President and CEO of the Virginia Automobile Dealers Association, recalled Mr. Charapp's guarded, emotionless demeanor when it came to franchise matters. "For Mr. Charapp," Hall says, "it was all about the rule of franchise and corporate law."
"When it came to legal matters, he always cared about one thing: the zealous protection of his clients, which includes Virginia auto dealers, and doing the best he could do," Mr. Hall said. "He had a unique way to motivate me to win. He knew how to get me riled up. He knew that defeat for me was not an option."
He recalled Mr. Charapp's guidance on the sale of VADA's insurance division, Integrum Advisors, to a brokerage in 2022. Transaction consultants advised VADA to hire an attorney specializing in mergers and acquisitions, but Mr. Hall refused, leaning instead on Mr. Charapp's counsel. "The consultants said they'd never seen a lawyer as smart as him on M&A matters, and all he considered for the association and clients, despite having such little experience," Mr. Hall said.
Mr. Charapp had no tolerance for political infighting, his VADA peers noted. "He didn't have the patience. He just wanted to drill down to the legal merits, do what needed to be done and get out," says Ms. Gambardella who, along with Mr. Hall, handled the lobbying. "The politics drove him crazy."
Before working exclusively with dealers, Mr. Charapp was a trial attorney, where he litigated and tried white-collar criminal cases, medical malpractice cases and complex civil litigation cases in state and federal courts throughout the country. He was admitted to the Virginia State Bar in 1974 after earning his law degree from Georgetown.
For many years, Mr. Charapp and attorney Eric L. Chase teamed up as featured speakers at the 600-member National Association of Dealer Counsel's annual conventions. Mr. Charapp was a founding board member and Past President of the NADC.
"He sparkled with his listeners, and evoked their roaring laughter, even as he gave them thoughtful, useful and memorable takeaways," Mr. Chase recalls, noting their talks always scored the highest in audience feedback.
"As an attorney or a client, if you had a special problem and just wanted to talk about it for a few minutes, you could pick up the phone and call him," Mr. Chase said. "He always responded quickly, always helped out, and he would do it pro bono. He was a stellar observer of the auto industry and its dealers — brilliant, eloquent."
Mr. Chase also remembered many dinners out with "our wonderful and patient wives," he said. "And they certainly had to be patient with the two of us at the table. I'll miss him mightily — I've lost a brother."
Mr. Charapp was a prolific writer whose monthly newsletter, Driving Your Success, was sent monthly to clients and peers. "It would tell dealers how to sell cars, but also do it within the bounds of how the laws are always changing," Mrs. Charapp Beaty said. Her father was also co-author of Auto Dealer Law: The Definitive Legal Guide to the Purchase, Sale and Operation of Vehicle Dealerships.
Mr. Charapp had four grandchildren divided evenly between his daughter and son. Mrs. Charapp Beaty, like many others, recalled his sense of humor and joked that "grouchy was his satire, but his kindness was as big as his personality. He was strict as a dad, but a pushover as a grandfather."
"He loved his family fiercely," she said, "and he did everything for us."
As he did for the industry.
"He was a pioneer in what he did," she said. "He loved the car business. Everything about it."
Mr. Charapp is survived by his wife of 51 years, Charlotte; Mrs. Charapp Beaty and husband Shawn, along with their kids Annabella and Tristan, of Ponte Vedra Beach; and a son, Aaron, and his wife Zabrina of New York City, along with their children Esme and Ayla.
In lieu of flowers, the family asks you to send a charitable donation in Michael's memory to the VADA Charitable Foundation, Inc., P.O. Box 5407, Richmond VA 23220.
Thanks to all who have given to the Foundation on Mike's behalf. Visit vada.com/foundation to see how this charitable mission impacts our industry's future.